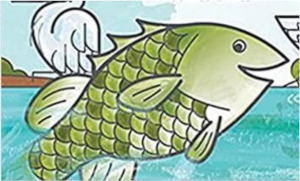 All the Author appearances take place on Sundays at 1:30 pm in Bonaventure at the Loveland Museum Center – 201 Riverside Ave. Loveland, OH
Come join Bill Schroeder in this second of a series of visits with talented local authors as they share their stories.     
June 12    Small Mouth Sonny
Bill Schroeder will entertain and educate with this color illustrated story that takes place on the Little Miami Wild & Scenic River.  The story features fictional characters based on the wildlife that live in and along the river. It offers young readers an appreciation for conservation and river ecology
June 26     Gigglesworth: The Boy Who Wouldn't Laugh                                            
Sean Cahill returns to LMC with his latest children's book.  A honking goose. A dying moose. A tugboat on the loose. These are just three of the ways the classmates of nine-year-old William J. Gigglesworth describe his laugh when they hear it for the first time. Is it any wonder he stops laughing? It is only through the steadfast companionship of classmate Josie Ryan that William is able to recognize what a gift he has in laughter.
More at: www.lovelandmuseum.org