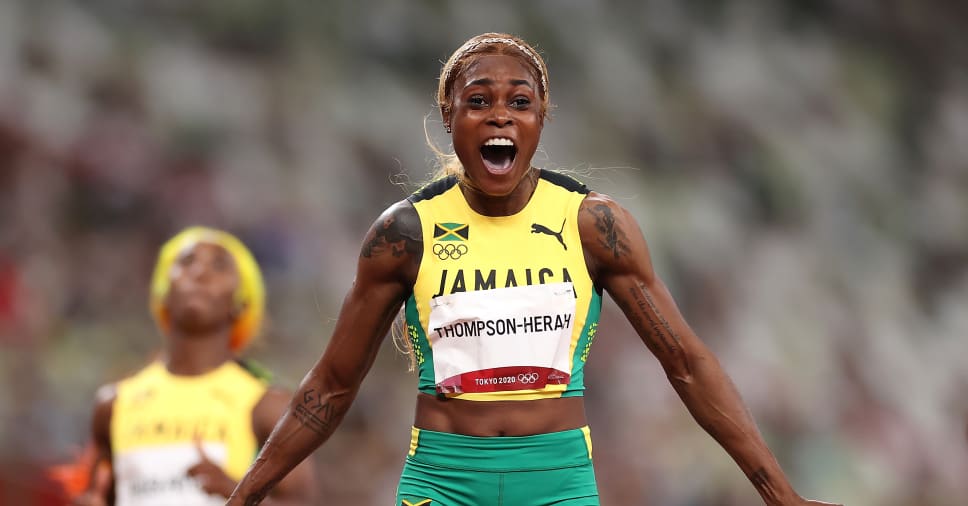 Jamaica's Elaine Thompson-Herah wins 100M Gold Medal (Photo credit Olympics 2021) 
HAPPY BIRTHDAY, MON
Today Jamaicans celebrate their independence day.  From 1655 until this date in 1962, Jamaica was a British crown colony.  Before that it had been ruled by the Spanish for 146 years.
Jamaica, like many other former British territories, is now a part of the Commonwealth of Nations.  So Queen Elizabeth II is the country's Head of State, although they have their own legislature and Prime Minister.
The birthplace of reggae, Blue Mountain coffee, some of the world's fastest sprinters, (including Usain Bolt and this year's 100M winner Elaine Thompson-Herah)  jerk chicken, and a crazy bobsled team, Jamaica is sure to be partying hardy today.  If you have ever visited there, you know it will be a good time.
Here is Tallis's ornate map of Jamaica from 1851.
Steve Kovacs and his wife Theresa reside in Loveland, Ohio where they raised their two children. He is a passionate collector of antique maps.
Visit his antique map boutique world-on-paper online. Watch for his daily feature Steve Kovacs: Antique Maps & Fun Facts here on Loveland Beacon.